The message for the Commedia dell'Arte Day
Each year a person associated with the tradition of Commedia dell'Arte is invited to write a special message in honor of Commedia dell'Arte. The message is translated and read at events around the world as well as published in newspapers and presented on radio and TV.
Gabriele Vacis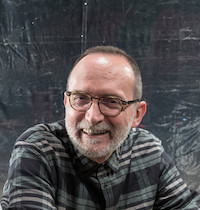 Dedication by Gabriele Vacis

Topeng is a form of Balinese theater that uses half-masks and highly formalized movements and is mainly comedic. When I saw it for the first time, many years ago, I thought: this is Commedia dell'Arte!
Could it be that someone from Italy, many centuries ago, traveled all the way to Bali to bring Commedia dell'Arte?
Or perhaps a Balinese artist traveled to Italy and brought Topeng here?
To me, there must have been contamination between the two: there are so many common elements that it can't have been a coincidence.
The fact is that Commedia dell'Arte is right at the origins of the theater, it is a form capable of bringing even the West and the East closer together.

Then I had the good fortune to work with an actor who knew Commedia inside out: Eugenio Allegri.
He was an extraordinary Arlecchino. I remember a rerun of "Il Falso Magnifico" in Settimo Torinese, the city where I live. It might have been 1980 or '81. Settimo was a suburb that was quickly becoming a bad neighborhood. We had invited TAG Teatro for Carnival, to see if they could cheer up our traditional float parade, which was usually quite glum. TAG set up the dizzyingly high platform on which they would act.
I think that show, in that piazza, influenced all of the theater that I have done since then, just as Commedia dell'Arte from the sixteenth century onwards influenced theater all over the world.

The parade ended, even more melancholy than usual, shadowed by an ugly, industrial suburb, and "Il Falso Magnifico" began. The play was in Piazza della Libertà, which was normally a parking lot, and even that Sunday in February we hadn't managed to clear it completely of cars. At first there must have been about thirty shivering onlookers. The show lasted almost two hours, and I thought the audience would probably dwindle down to four or five.
Instead, it happened. The magic of the theater happened.
More and more spectators kept adding on to that first small audience, until the piazza was filled with people. All eyes were glued on these madmen carousing on a 4X3 meter stage that was two meters above the street.
Eugenio played Arlecchino, the most acrobatic character one; with every pirouette, we were afraid that he would fall off the stage. But here is the beauty of Commedia dell'Arte. It is a risky art form, that requires actors who are slightly out of their minds. Only these reckless adventurers can fill a grey Sunday in February with sunshine. Only they would have the courage to sail all the way to Bali, to the ends of the world, to spread this art form, that we should cherish as much as we can.



Short Biography
He was one of the founders of the Laboratorio Teatro Settimo, a theater group active in the town of the same name in the Turin hinterland. In his shows he offers a scenic rewriting of both classic and literary texts and contemporary texts, concerting acting, songs and music, storytelling and epics, generational reflection and references to both cultured and popular tradition. For further information: https://it.wikipedia.org/wiki/Gabriele_Vacis