The 2023 Day is dedicated to

Eugenio Allegri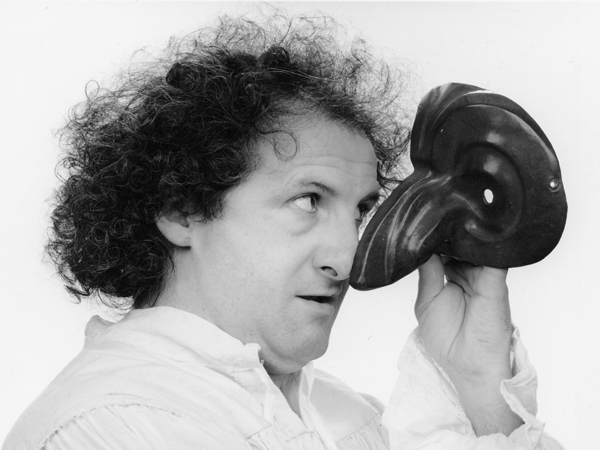 Eugenio Allegri
curriculum vitae
Born in Collegno in 1956, he graduated in 1979 from the Bologna theater school directed by Alessandra Galante Garrone.
He began his professional activity with the Nuova Scena cooperative under the artistic direction of Francesco Macedonio. In 1981 he participated in the staging of the "Opera dello Sghignazzo", written and directed by Dario Fo. The next show is "Comoedia", a work based on texts by Ruzante. In 1980 he played "Aristophanes's Birds" under the direction of Memè Perlini, with the musical group Area. In February 1983, Allegri made his debut in Bonn in the show "Il falso Magnifico" directed by Carlo Boso for the TAG Teatro: about 180 performances followed in France, Spain, Greece, Switzerland and in the former Soviet Union. In 1984 he was again Harlequin in "The Siege of the Serenissima".
In 1986 he was called by Leo Berardinis to participate in Shakespeare's "Novecento and Mille" e "La Tempesta" shows, produced by the Nuova Scena cooperative in Bologna. He begins a collaboration that continues with The "Return of Scaramouche" (1987), "Delirio and Macbeth" (1988), "Ha'dda passà nuttata" (1989). In 1991 he began his collaboration with the Teatro Settimo in Turin, starting with the interpretation of "The Story of Romeo and Juliet", directed by Gabriele Vacis; the show wins the Ubu Prize for the best dramaturgy.
The need for a more personal work is realized, for Eugenio Allegri, in the meeting with Gabriele Vacis and Alessandro Baricco: together they obtain great success with "Novecento", a theatrical monologue written by Baricco.
In 1996, he staged his first Commedia dell'Arte show with the Pantakin company of Venice: "Amphitryon", based on Plautus and Molière. In the autumn he resumes his collaboration with the Teatro Settimo by participating in "The Birds of Aristophanes", with the presence on the stage of the Banda Osiris. In the 1997/98 season he was among the protagonists of Shakespeare's "King Lear", directed by Andrèe Ruth Shammah. In the 1999/2000 season he directed Gozzi's "Re cervo" and performed "La storia di Cyrano" for the Teatro Stabile del Veneto.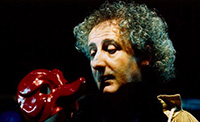 LA COMMEDIA DELL'ARTE COME MEMORIA ATTIVA DEL TEATRO
di Eugenio Allegri
Since 1983, the year in which the Commedia dell'Arte cycle of the Tag Teatro in Venice began, one of the crucial questions in the work of that group was the dramaturgical question. Now, to say "dramaturgy" when speaking of comedy "suddenly" seemed anachronistic to all of us knowing full well that a large part of the admiration and consideration that masquerade actors nourish is always derived from the ability of pantomimes, acrobats, enraged souls , of bodies dominated by speed, by vocal musicality, finally also instrumental physics and that much more that makes comedy apparently a pure and simple, albeit amazing, theatrical game.
The vicissitudes, the stories told, the plots, the mere suspicion of elements of psychological introspection of the characters/characters, appeared to most as secondary elements; yet we knew perfectly well, actors and directors, that this was not the case, that those elements instead formed the backbone of a canvas.
Today, after more than a decade full of countless experiences of Commedia dell'Arte, that question remains unchanged in its centrality. Dramaturgy, in "comedy" remains a problem to be addressed. Of course, in a show you can make people laugh with a single joke and yet it can easily be demonstrated that, through a certain gesture and a certain expressive movement of the mask, the "form" becomes content and that is enough; and if then perhaps a game of high skill, physical rather than vocal, is added, the public is amazed. And yet this is not enough to forge the new language that the Commedia dell'Arte can articulate in an advanced and complex society. What is needed is exactly the opposite, that is to think of a language and a theatrical technique that is continuously updated and enriched by political and historical poetics and thought: this is the reason that masks have to continue to exist in the Italian theater. The "Human Comedy", as Lecoq called it.
The language that is articulated in the so-called "scenic writing" of a Comedy canvas can contain a range of the most vital and lasting stimuli for the creation of a contemporary comic dramaturgy that is not neutral or subject to a reason of state, or of entertainment , nationalpopular.
If Govi's hilarious farces existed, Eduardo's great theater, Petrolini's irreverent monologues, Totò's brilliant improvisations, we know that the Commedia dell'Arte was at the origin, perhaps even only as a source of inspiration for a comedy writing shredded, revived and reinvented. And so, a modern canvas, like a good younger brother, can go in search of its origin, its history, its present to rediscover the "active memory" of a discourse on the theater and, through the theatre, of a discourse on society . It is not a simple act of opportunism or cunning; it is a question of reinventing current events: saying intelligent jokes linked to clear themes in which a people, or even just an audience, recognize themselves because they arouse a collective, historical, human, fantastic imagination. In short, a comic theater alive and active over time, in which the pyrotechnic skill of the performers and the beauty of the stories they know how to tell, to paraphrase Moliere, open the mind and reach the hearts of the spectators.
Eugenio Allegri
(Turin, March 1994)

This time the poets have given the cul, as they say, on the stone, after that the new salon has been deflowered by Zanni for the guiderdone, whereby the comedies have acquired all the glory and reputation: thus from the Zanni conquered and surpassed men of letters can hang themselves.
Anton Francesco Grazzini known as "il Lasca"
The Commedia dell'Arte, or so-called Italian Comedy, has its origins in the most beautiful season of national art, that of the Renaissance. There is no prestigious court which, in addition to counting palaces or courtyards or galleries or theaters designed by great architects and frescoed by masters of the time, does not include among its duties the maintenance and protection of a Commedia dell'Arte company .
The art of Italian actors of the 16th century and of the following century is not second to that of the great poets such as Tasso, Machiavelli, Ariosto and the theater halls are filled with admiring spectators. Yet the comedy, in its simple form, comes from the square, from the people, from the festivals which, in towns and cities, bring together brigades and playful masks, as already happened in the Middle Ages.
Well, this is the secret of the strength of the Commedia dell'Arte: to be an extraordinary synthesis of popular art that knows how to use cultured poetry.
Making the audience laugh and smile, with a duel, an acrobatics, a dance and telling stories of love, power, intrigue and conquest is a duty: because this is how theater is made into a playful civil celebration.
Eugenio Allegri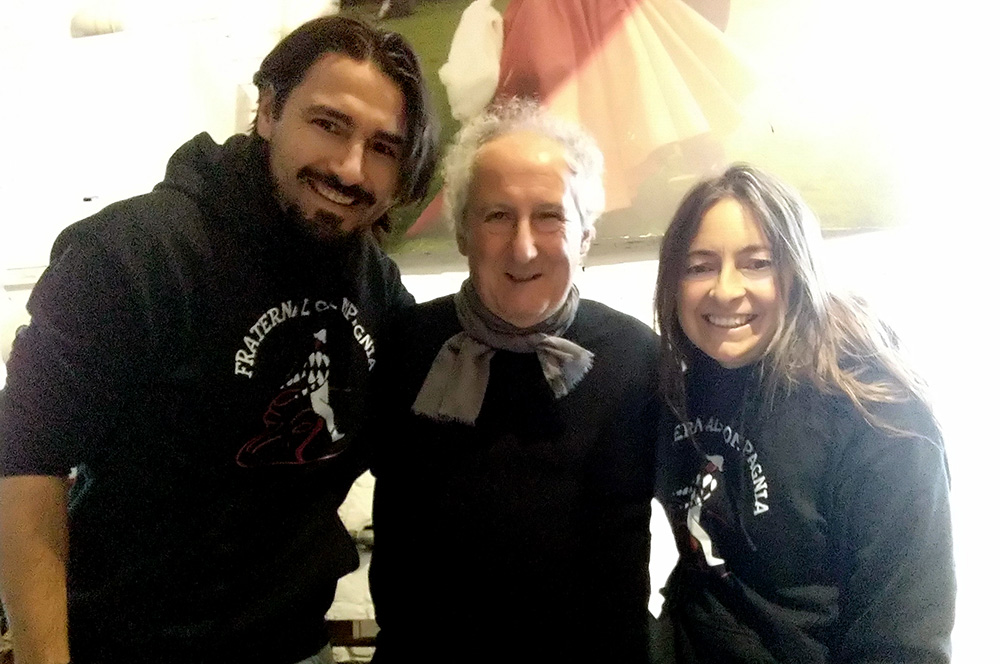 Eugenio Allegri with Fraternal Compagnia