The 2023 Day is dedicated to

Eugenio Allegri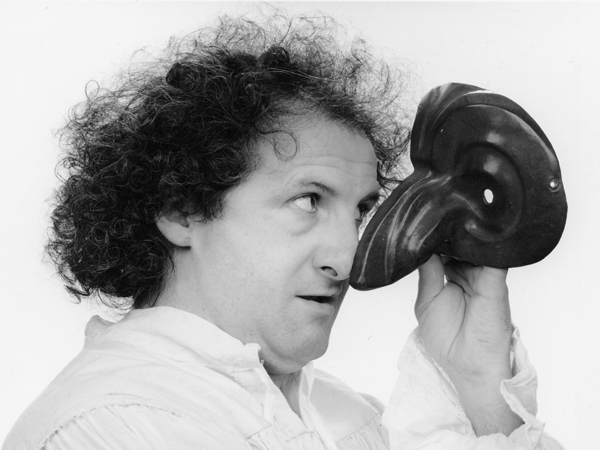 Eugenio Allegri
curriculum vitae
Born in Collegno in 1956, he graduated in 1979 from the Bologna theater school directed by Alessandra Galante Garrone.
He began his professional activity with the Nuova Scena cooperative under the artistic direction of Francesco Macedonio. In 1981 he participated in the staging of the "Opera dello Sghignazzo", written and directed by Dario Fo. The next show is "Comoedia", a work based on texts by Ruzante. In 1980 he played "Aristophanes's Birds" under the direction of Memè Perlini, with the musical group Area. In February 1983, Allegri made his debut in Bonn in the show "Il falso Magnifico" directed by Carlo Boso for the TAG Teatro: about 180 performances followed in France, Spain, Greece, Switzerland and in the former Soviet Union. In 1984 he was again Harlequin in "The Siege of the Serenissima".
In 1986 he was called by Leo Berardinis to participate in Shakespeare's "Novecento and Mille" e "La Tempesta" shows, produced by the Nuova Scena cooperative in Bologna. He begins a collaboration that continues with The "Return of Scaramouche" (1987), "Delirio and Macbeth" (1988), "Ha'dda passà nuttata" (1989). In 1991 he began his collaboration with the Teatro Settimo in Turin, starting with the interpretation of "The Story of Romeo and Juliet", directed by Gabriele Vacis; the show wins the Ubu Prize for the best dramaturgy.
The need for a more personal work is realized, for Eugenio Allegri, in the meeting with Gabriele Vacis and Alessandro Baricco: together they obtain great success with "Novecento", a theatrical monologue written by Baricco.
In 1996, he staged his first Commedia dell'Arte show with the Pantakin company of Venice: "Amphitryon", based on Plautus and Molière. In the autumn he resumes his collaboration with the Teatro Settimo by participating in "The Birds of Aristophanes", with the presence on the stage of the Banda Osiris. In the 1997/98 season he was among the protagonists of Shakespeare's "King Lear", directed by Andrèe Ruth Shammah. In the 1999/2000 season he directed Gozzi's "Re cervo" and performed "La storia di Cyrano" for the Teatro Stabile del Veneto.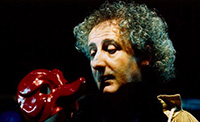 LA COMMEDIA DELL'ARTE COME MEMORIA ATTIVA DEL TEATRO
di Eugenio Allegri
Theater craftsman. He has developed a personal patrimony of techniques and creations in the field of masks, sets, elements of costumes, theatrical tricks. He works in wood, leather, paper mache and unconventional materials. The masks are made according to the traditional process, from the conception, to the sculpture of the shape, to the modeling of the leather. It boasts a heritage of about a hundred masks, from Tragedy to Ancient Commedia, neutral, larval, expressive modern full and half masks. He specializes in the mask of Commedia dell'Arte. Permanent collaborator of the Teatro del Frizzo/Santibriganti Teatro and of the Permanent Laboratory project on Commedia dell'Arte by Mauro Piombo.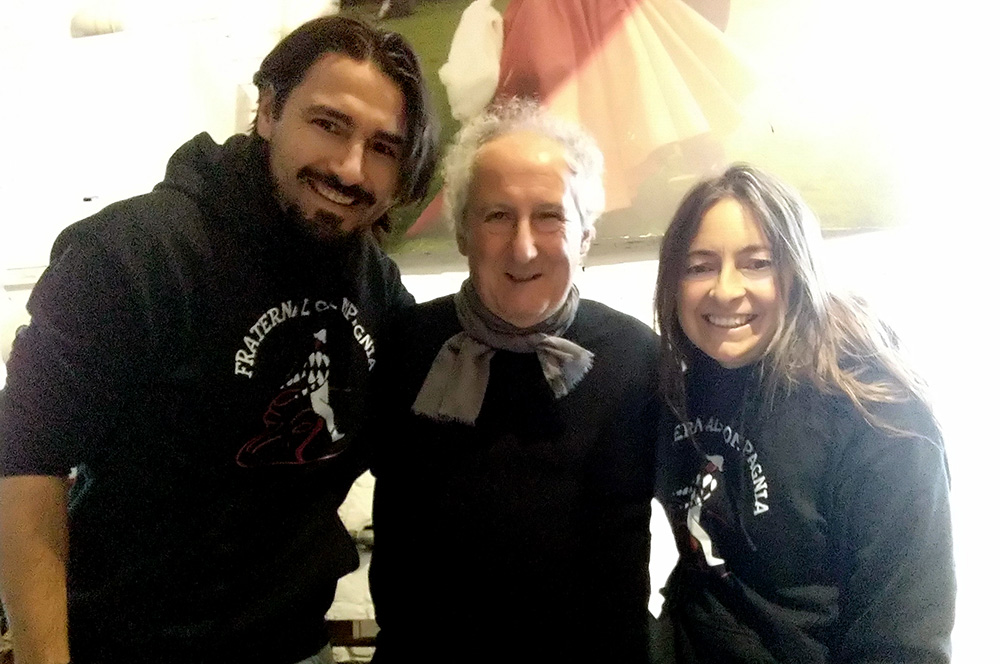 Eugenio Allegri with Fraternal Compagnia